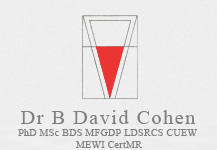 Specialist Endodontist and Dento-Legal Expert Witness
Dr B David Cohen
Dr B David Cohen (Specialist Endodontist and Dento-Legal Expert Witness)
PhD, MSc, BDS, MFGDP, LDSRCS, CUEW, MEWI, CertMR
GDC registration number: 45658

Hello, and thank you for looking at my website.
On the inside pages you will be able to find information about me
If you are a solicitor, or medico-legal agency, involved with dento-legal work, please go straight to the dento-legal page to find out more about my expert witness work.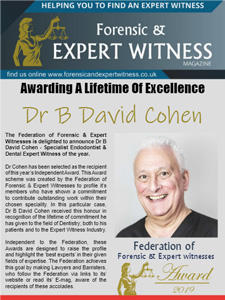 I had the honour of being announced as The Federation of Forensic & Expert Witnesses' Specialist Endodontist & Dental Expert Witness of the Year in 2019. Click the image to find out more about this prestigious award.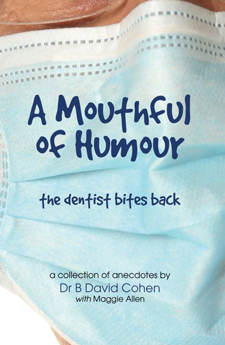 I have recently written and published a book which is a collection of humorous anecdotes covering my over 50 years in dental practice. It is titled "A Mouthful of Humour – the dentist bites back" and is published by Vanguard Press.